Supercritical CO2 Extractors
A supercritical carbon dioxide extractor with an effective chamber volume of 20 litres, to be used when rapid binder removal is required. With this equipment, it is possible to extract binder from large injection moulded parts with thicknesses exceeding 30 millimeters.
Supercritical CO2 extractor
Some features of the supercritical extraction equipment are a recirculating CO2 fluid system, resulting in very low CO2 consumption, and a separator continuously separating the binder from the CO2 during extraction. The following example shows the efficiency of the system:
As an example, the 20 litre extractor can each time be set with 650 pieces of injection moulded watchcases. One complete extraction cycle takes only five to six hours, by which 90-95% of the binder is removed. The output of the 20 litre chamber unit is thus more than sufficient for large-scale production.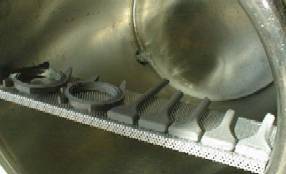 Interior of a 50 litre extractor chamber
set with a limitedl number of parts.
Equally important, we have rationalised the unit design to be able to offer units at an attractive price. As a result, the investment cost is actually comparable to thermal debinding systems.
Advantages of supercritical extraction
Considerably reduced debinding times
Dispensable powder embedment
Better form stability – no shrinkage during extraction
Finer tolerances – no rearrangement of particles
Improved surface finish
Possible to extract thick-walled components
No reactions between CO2 and powder – CO2 is thermodynamically stable
Extracted paraffin ca be reused without any refinement
No additional CO2 to the atmosphere
| Effective chamber volume | 20 litres, 50 litres |
| --- | --- |
| Supercritical fluid | CO2 |
| Pressure | 300 bar |
| Temperature | 90°C |
| Flow rate | 1 kg CO2/min (20 l), 2 kg CO2/min (50 l) |
| Load | 50 kg ( 20 l), 100 kg (50 l) |
| Extraction rate | 0.2 kg binder/h (20 l), 0.4 kg binder/h (50 l) |
| General | |
| Dimensions (w×d×h) | 80×110×170 cm³ (20 l), 90×120×180cm³ (50 l) |
| Weight, approx. | 150 kg (20 l), 250 kg (50 l) |
| Mains connection | 150 kg (20 l), 250 kg (50 l) |