Medium Pressure Injection Moulding Machines
GOCERAM Medium Pressure Injection Moulding (MPIM) machines are designed for moulding of ceramic, metal and intermetallic (tungsten carbide) feedstocks, primarily using wax-based binders. These table top units are compact, flexible and service-friendly and are constructed for durable large scale, fully automatic production, as well as for short series in semi-automatic or manual mode. The GC-MPIM-3-MA is an essential component of a complete, cost-effective, production line for complex, net-shaped components.
Fully automatic Medium Pressure Injection Moulding Machine, model GC-MPIM-3-MA, with pick-up device.
Large Moulding Machines for Large Injection Volumes
Medium Pressure Injection Moulding Machine for injection volumes up to 300 cm³. This particular machine, model GC-MPIM-3-M-AQ, is designed for aqueous consolidation systems.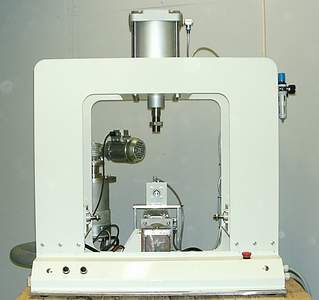 The GC-MPIM-3-MA is equipped with a unique Compact Injection moulding Module – CIModule – in which the feedstock is kept, see photo. It consists of the pressure chamber, the injection piston and the hopper – all made of stainless steel. The module is designed to be easy to clean and rapidly interchangeable (requires about 5 min). The versatile CIModule can, in addition- to the wax system, be used for other binder concepts, for instance gel-casting or freeze forming.
Modes of operation – pneumatic or with a servo-motor
In the standard version of the MPIM Machines, GC-MPIM-3-MA, the feedstock is injected into the mould by a pneumatic piston – a simple, reliable and robust system.
As an option, the machines can be equipped with an electrical servo-motor with digital, high precision motion control unit including a supervising PC or a durable terminal – model designation GC-MPIM-3-MA-X. In this case injections with different rate profiles can be programmed in order to perfectly adapt the injection cycle to a certain
Tooling
Because of the moderate injection pressure, the tooling cost is low. The moulds can be produced of not only steel but also of more easy-to-machine metals such as aluminium and brass. In addition even plastics, preferably with heat conductive additives, can be used.
Options
Fully automatic operation with a pick-up device
PC-controlled electrical servo-motor with digital motion control
Pressure gauge in the CIModule with digital display unit
Extra CIModule (incl. pressure chamber, piston and hopper), 35 or 100 ccm
Mould tool with glass window for testing
Custom-built MPIM Machines according to specific requirement
Injection by pneumatic cylinder, Manual and Automatic mode
Injection by pneumatic cylinder, Manual mode (preperad for Automatic mode)
CIModule:
Injection
volume:
Flow rate:
Injection
pressure:
35
0 - 35 cm³
0 - 20 cm³/s
0-50 bar
80
0 - 80 cm³
0 - 40 cm³/s
0-50 bar
200
0 - 200 cm³
0 - 100 cm³/s
0-40 bar
300
0 - 300 cm³
0 - 150 cm³/s
0-40 bar
up to 360 cycles/hour (one cavity tool)
230 VAC, 50-60 Hz, 1-phase, 3000 W
Injection by high precision servo-motor with digital motion controller,
Manual and Automatic mode
CIModule:
Injection
volume:
Flow rate:
Injection
pressure:
Absolute resolution
during injection:
35
0 - 35 cm³
0 - 70 cm³/s
0-50 bar
0.05 mm³
80
0 - 80 cm³
0 - 120 cm³/s
0-50 bar
0.10 mm³
200
0 - 200 cm³
0 - 180 cm³/s
0-50 bar
0.15 mm³
300
0 - 300 cm³
0 - 260 cm³/s
0-50 bar
0.20 mm³
Eight programmable segments for desired injection profile
PC or processor based operator panel